3 Music Theater songs for Teens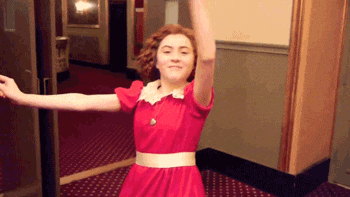 Lately I've been listening to lots of musicals trying to find that song that's the perfect fit for 13 year olds.
It can be challenging finding songs that have appropriate stories or even language. Another issues is finding songs that fit in the range of younger students due to the fact that their vocal cords have to mature.
That being said here's are 3 I think are staples for young singers!
Stupid with Love (Mean Girls) This song is uptempo, is written for a young character and fits perfectly in the younger range. It also possesses a strong dynamic changes throughout which is important for auditions. Listen here!
2. I know it's today (Shrek)
I love this song because it shows the singers growing from youth through late teens- 3 different ages in one song. It can be edited to shorter snippets for an audition or performed entirely by one singer. (In the show it's 3 singers demonstrating the span of time
.) Either way it's totally OK to take a song and cut it to fit whatever shows off your voice!
3. Popular (Wicked) If you want to go back in time and find some of the tried-and -true classics, try singing Popular. It's fun, engaging for your listener and even better, learning this is actually very challenging. Any student who can have fun and work their way through this song will be able to improve their belt as well as ear training skills for both pitch and complicated rhythms.
If you're looking to find more repertoire or have an audition coming up for high school or college, sign up for a lesson on our site!